Headquartered in Florence, Kentucky, Holland employs over 400 team members and services over 35 states in the continental US, including a branch in Costa Rica. We have separate divisions for our Roofing Repair and Maintenance (RMM) divisions along with dedicated crews when it comes to replacing or installing new commercial roofs. Curious if we have a team in your area? The following information will provide you with the locations and details of each Holland Roofing branch and where they service.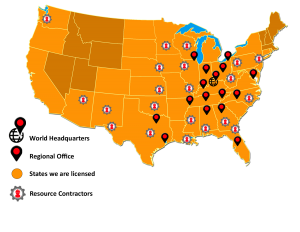 Atlanta, Georgia
Known for its southern hospitality, our Roof Maintenance and Management branch in Georgia provides quality service to any Central or Northern Georgia counties. This includes; Fayette, Coweta, Heard, Spalding, Butts, Jasper, Putnam, Hancock, Warren, Richmond, Glascock, Washington, Jefferson, Burke, Baldwin, Jones, Monroe, Lamar, Upson, Pike, Meriwether, Troup, Screven, Wilkinson, Bibb and Upson counties. Learn more about RMM of Georgia.
Cincinnati, Ohio
The city of Cincinnati hosts three different branches for our team at Holland Roofing. Holland Roofing of Cincinnati, Inc., Holland Roofing RMM of Cincinnati, Inc., and Holland Roofing SPD. Each Holland location serving Cincinnati, OH is fully-staffed to provide you with prompt, reliable service for all facets of the commercial roofing and industrial roofing markets. Learn more about our Cincinnati, Ohio branches.
Columbus, Ohio
Holland Roofing's Roof Maintenance and Management branch of Columbus, Ohio provides one of the best commercial roofing and maintenance management services in Central Ohio. This branch also extends their services to neighboring states, including the following counties.
Ohio: Logan, Shelby, Miami, Clark, Champaign, Montgomery, Madison, Union, Marion, Crawford, Morrow, Delaware, Franklin, Pickaway, Fairfield, Ross, Pike, Scioto, Jackson, Lawrence, Gallia, Hocking, Vinton, Fairfield, Perry, Licking, Knox, Coshocton, Richland, Athens, Muskingum, Guernsey, Belmont, Noble, Monroe, Washington, and Meigs counties. West Virginia: Cabell, Wayne, Mason, Jackson, Wood, Pleasants, Marshall, Ohio, Brooke, Hancock, Wetzel, Tyler, Kanawha, Raleigh, Fayette, and Putnam counties. Pennsylvania: Washington, Greene, Allegheny, and Beaver counties. Kentucky: Greenup, Boyd, Lawrence, Martin, and Pike counties. Interested in learning more about Holland Roofing of Columbus RMM? Click here.
Cleveland, Ohio
Holland Roofing of Cleveland provides the best commercial roofing services to Northern Ohio and Western Pennsylvania. Here are the counties we service; Ohio: Cuyahoga, Lake, Ashtabula, Geauga, Trumbull, Mahoning, Portage, Stark, Summit, Lorain, Medina, Ashland, Richland, Columbiana, Erie, Huron, Crawford, Seneca, Sandusky, Ottawa, Lucas, Wood, and Hancock counties. Pennsylvania: Erie, Crawford, Mercer, Lawrence, Butler, Beaver, Allegheny, and Washington counties. Contact us today to learn more about RMM of Cleveland.
Knoxville, Tennessee
RMM of Knoxville provides top of the line commercial roofing services to North Eastern Tennessee and Southern Kentucky.
The counties RMM of Knoxville services are; Tennessee: Knox, Anderson, Hamilton, Blount, Washington, Bradley, Sevier, Union, Claiborne, Whitley, Sullivan, Roane, and Scott counties. Kentucky: Corbin, Whitley, Barboursville, Pulaski, and McCreary counties. Click here to learn more about the services RMM of Knoxville has to offer.
Memphis, Tennessee
RMM of Memphis provides exceptional commercial roofing services to the Mid-South. This diverse Roofing Maintenance and Management branch services counties in the Memphis area and surrounding states, including counties in Mississippi and Arkansas.
These counties include; Tennessee: Shelby, Fayette, Tipton, Lauderdale, Haywood, Hardeman, Dyer, Madison, Chester, McNairy, Hardin, Decatur, Henderson, Carroll, Gibson, Weakly, Henry, Benton, Wayne, Perry, Obion, Crockett and Humphreys counties. Mississippi: Alcorn, Attala, Benton, Bolivar, Calhoun, Carroll, Chickasaw, Claiborne, Clay, Coahoma, Copiah, DeSoto, Grenada, Hinds, Holmes, Humphreys, Issaquena, Itawamba, Jasper, Jefferson, Kemper, Lafayette, Lauderdale, Leake, Lee, Leflore, Lowndes, Madison, Marshall, Monroe, Montgomery, Neshoba, Newton, Noxubee, Oktibbeha, Panola, Pontotoc, Prentiss, Quitman, Rankin, Scott, Sharkey, Simpson, Smith, Sunflower, Tallahatchie, Tate, Tippah, Tishomingo, Tunica, Union, Warren, Washington, Webster, Winston, Yalobusha and Yazoo counties. Arkansas: Arkansas, Ashley, Baxter, Bradley, Calhoun, Chicot, Clark, Clay, Cleburne, Cleveland, Conway, Craighead, Crittenden, Cross, Dallas, Desha, Drew, Faulkner, Fulton, Garland, Grant, Greene, Hot Springs, Independence, Izard, Jackson, Jefferson, Lawrence,  Lee, Lincoln, Lonoke, Marion, Mississippi, Monroe, Montgomery, Nevada, Ouachita, Perry, Phillips, Pike, Poinsett, Pope, Prairie, Pulaski, Randolph, St. Francis, Saline, Searcy, Sharp, Stone, Van Buren, White, Woodruff and Yell counties. Learn more about the services RMM of Memphis has to offer.
Nashville, Tennessee
Since 1997 Holland Roofing's full-service branch in Nashville, Tennessee, has provided prompt, reliable, and quality commercial roofing services. Our team in Nashville strives to expand services not only in the Nashville area but also in counties in Alabama and Kentucky.
Holland Roofing of Nashville RMM services; Tennessee: Bedford, Beldsoe, Cannon, Cheatum, Coffee, Cumberland, Davidson, Dekalb, Dickson, Fentress, Franklin, Giles, Grundy, Hamilton, Hickman, Houston, Humphreys, Jackson, Lawrence, Lewis, Lincoln, Macon, Marion, Marshall, Maury, Montgomery, Moore, Overton, Perry, Pickett, Putnam, Rhea, Robertson, Rutherford, Sequatchie, Smith, Stewart, Sumner, Van Buren, Warren, Wayne, White, Williamson, and Wilson counties. Alabama: Bibb, Blount, Calhoun, Cherokee, Chilton, Clay, Colbert, Coosa, Cullman, Dekalb, Elmore, Etowah, Fayette, Franklin, Greene, Hale, Jackson, Jefferson, Lamar, Lauderdale, Lawrence, Limestone, Madison, Marion, Marshall, Morgan, Perry, Pickens, Shelby, St. Clair, Sumter, Sutauga, Talladega, Tallapoosa, Tuscaloosa, Walker, and Winston counties. Kentucky: Allen, Barrne, Christian, Logan, Monroe, Simpson, Todd, Trigg, and Warren counties. Is your county listed? Are you wanting to learn more? Click here.
Louisville, Kentucky
Holland Roofing RMM of Louisville, Inc. is a branch you can rely on for prompt, reliable service. Rooted in years of experience, they deliver flawless commercial roofing solutions to area business owners. If you want to learn more about Holland Roofing RMM of Louisville, Inc. or are curious if we service in your area, visit our website or contact us at (502)633-6620.
Indianapolis, Indiana
Welcome to the Hoosier State! Holland Roofing's Roof Maintenance and Management Branch in Indianapolis, Indiana has provided prompt, reliable, and quality commercial roofing services throughout the Mid-West Region.
The counties in this region include; Indiana: Adams, Allen, Bartholomew, Benton, Blackford, Boone, Brown, Carroll, Cass, Clark, Clay, Clinton, Crawford, Daviess, Dearborn, Decatur, DeKalb, Delaware, Dubois, Elkhart, Fayette, Floyd, Fountain, Franklin, Fulton, Gibson, Grant, Greene, Hamilton, Hancock, Harrison, Hendricks, Henry, Howard, Huntington, Jackson, Jasper, Jay, Jefferson, Jennings, Johnson, Knox, Kosciusko, LaGrange, Lake, LaPorte, Lawrence, Madison, Marion, Marshall, Martin, Miami, Monroe, Montgomery, Morgan, Newton, Noble, Ohio, Orange, Owen, Parke, Perry, Pike, Porter, Posey, Pulaski, Putnam, Randolph, Ripley, Rush, Scott, Shelby, Spencer, Starke, Steuben, St. Joseph, Sullivan, Switzerland, Tippecanoe, Tipton, Union, Vanderburgh, Vermillion, Vigo, Wabash, Warren, Warrick, Washington, Wayne, Wells, White and Whitley counties. Illinois: Iroquois, Ford, Champaign, Vermillion, Edgar, Douglas, Coles, Clark, Cumberland, Jasper, Crawford, Lawrence, Richland, Edwards, Wabash, Hamilton and White counties. Michigan: Van Buren, Kalamazoo, Calhoun, Jackson, Berrien, Cass, Saint Joseph, and Branch counties. Learn more about Holland Roofing RMM of Indianapolis, here.
Chicago, Illinois
Based in one of the largest metros in the United States, Holland Roofing's dedicated Roofing Maintenance and Management branch services all of Chicagoland, Southern Wisconsin, and Northwest Indiana.
Some counties include; Illinois: McHenry, Lake, Cook, DuPage, Will, Kankakee, Grundy, Kendall, Kane, De Kalb and Boone counties. Wisconsin: Racine, Kenosha, Walworth, Rock, Madison/Dane, Jefferson, Waukesha and Milwaukee counties. Close to the Chicago area but don't see your county listed? There's still a chance our services reach you! Click here to contact us.
The Carolinas
From the Smokies in North Carolina to the Low Country in South Carolina, Holland Roofing's RMM of the Carolina's branch can be at your service! This dedicated Roofing Maintenance and Management branch services North Carolina, South Carolina, and South West Virginia.
Here are the counties we service; North Carolina: Cherokee, Graham, Swain, Clay, Macon, Jackson, Haywood, Transylania, Henerson, Buncombe, Madison,Yancey, Mitchell, McDowell, Polk, Rutherford, Burke, Cleveland, Avery, Caldwell, Watauga, Ashe, Alleghany, Wilkes, Alexander, Catawba, Lincoln, Gaston, Surry, Yadkin, Iredell, Mecklenburg, Union, Cabarrus, Rowan, Davie, Davidson, Forsyth, Stokes, Rockingham, Guilford, Randolph, Stanly, Montgomery, Anson, Richmond, Scotland, Hoke, Moore, Lee,Chatham, Alamance, Caswell. Person, Orange, Granville, Durham, Wake, Harnett, Cumberland, Robeson, Columbus, Brunswick, Bladen, Pender, New Hanover, Sampson, Johnston, Franklin, Vance, Warren, Halifax, Northampton, Nash, Edgecombe, Wilson, Wayne, Duplin, Onslow, Jones, Lenoir, Greene, Pitt, Martin, Bertie, Hartford, Chowan, Washington, Beauford, and Carteret counties. South Carolina: Oconee, Pickens, Greenville, Spartenburg, Cherokee, York, Anderson, Laurens, Union, Chester, Lancaster, Chesterfield, Marlboro, Abbeville, Greenwood, Newberry, Fairfield, Kershaw, Darlington, Dillon, McCormick, Saluda, Lexington, Richland, Sumter, Lee, Florence, Marion, Horry, Edgefield, Aiken, Calhoun, Clarendon, Williamsburg, Barnwell, Bamberg, Orangeburg, Berkeley, Georgetown, Allendale, Hampton, Colleton, Dorchester, Jasper, Beaufort, and Charleston counties. Virginia: Tazewell, Smyth, Washington, Grayson, Wythe, Bland, Giles, Pulaski, Carroll, Floyd, Montgomery, Craig, and Patrick counties. Visit our website to learn more about Holland Roofing RMM of The Carolina's.
Birmingham, Alabama
Holland Roofing of Alabama provides the highest quality commercial roofing solutions to Huntsville, Alabama customers, regardless of the size or scope of the project. If you want to learn more about Holland Roofing RMM of Louisville, Inc. or are curious if we service in your area, visit our website or contact us at (877)491-6533.
Dallas, Texas
Located in the heart of North Texas, Dallas is a commercial and cultural hub of the region. Holland Roofing's dedicated Roofing Maintenance and Management branch services North Texas and Southern Oklahoma. Holland services the following counties in Texas; Bosque, Collin, Cooke, Dallas, Denton, Ellis, Erath, Grayson, Henderson, Hill, Hood, Hunt, Jack, Johnson, Kaufman, Montague, Navarro, Palo Pinto, Parker, Rockwall, Somervell, Tarrant, Wise and Van Zandt counties. Interested in learning more about Holland Roofing RMM Dallas? Click here.
Houston, Texas
Located on the coast of southeast Texas, the city of Houston is home to Holland Roofing's southwest Texas office. Holland Roofing's dedicated Roofing Maintenance and Management branch services the following countries in Southeast Texas and Western Louisiana; Texas: Leon, Houston, Nacogdoches, San Augustine, Sabine, Robertson, Madison, Trinity, Angelina, Milam, Burleson, Brazos, Grimes, Walker, San Jacinto, Polk, Tyler, Jasper, Newton, Travis, Bastrop, Lee, Fayette, Washington, Waller, Montgomery, Harris, Liberty, Hardin, Orange, Kendall, Cormal, Hays, Caldwell, Bexar, Guadalupe, Gonzales, Wilson, Lavaca, Colorado, Austin, Wharton, Fort Bend, Atascosa, Karnes, De Witt, Victoria, Jackson, Matagorda, Brazoria, Galveston, Chambers, Jefferson, Live Oak, Bee, Goliad, Rafugio, Calhoun, Aransas, San Patricio, and Nueces counties. Louisiana: DeRidder, Allen, Evangeline, Saint Landry, Pointe Coupee, East Baton Rouge, Livington, Lake Charles, Jefferson Davis, Crowley, Lafayette, Saint Martin, West Baton Rouge, Plaquemine, Ascension, Cameron, Vermilion, Iberia, Saint Mary, Assumption, and Saint James counties. Are you I need of service in one of the listed counties? Contact us here.
Washington, D.C.
RMM of Washington D.C. not only services the District of Columbia, but 70 counties and independent cities in the state of Virginia, as well as counties in Delaware, Maryland, Pennsylvania and West Virginia. Virginia: Albemarle, Amelia, Amherst, Appomattox, Arlington, Augusta, Bath, Bedford, North Brunswick, Buckingham, Campbell, Caroline, Charles, Charlotte, Chesapeake, Chesterfield, Clarke, Culpeper, Cumberland, Dinwiddie, Essex, Fairfax, Fauquier, Fluvanna, Frederick Gloucester, Goochland, Greene, Hampton, Hanover, Henrico, Highland, Isle of Wight, James City, King and Queen, King George, King William, Lancaster, Loudoun, Louisa, Lunenburg, Madison, Mathews, Middlesex, Nelson, New Kent, Newport News, Northampton, Northumberland, Nottoway, Orange, Page, Powhatan, Price Edward, Prince George, Prince William, Princess Ann, Rappahannock, Richmond, Roanoke, Rockbridge, Rockingham, Shenandoah, Southampton, Spotsylvania, Stafford, Surry, Sussex, Virginia Beach, Warren, Warwick, Westmoreland, and York counties. Delaware: Kent and Sussex counties. Maryland: Anne Arundel, Baltimore, Calvert, Charles, Dorchester, Frederick, Harford, Howard, Kent, Prince George's, Queen Anne's, and Saint Mary's counties. Pennsylvania: Chester, Delaware, Bucks, Montgomery, Lancaster, Philadelphia, and York counties. West Virginia: Berkeley, Jefferson, Hampshire, Hardy, Pendleton, and Pocahontas counties. Learn more about the services RMM of Washington D.C. offers.
Lakeland, Florida
RMM of Lakeland provides the best roofing needs of West-Central Florida. Every technician that Holland employs is local to the region and has an immediate ability to respond to any leak call. The areas we service are; Pasco, Polk, Hillsborough, Pinellas, Manatee, Hardee, Highlands, De Soto, Sarasota, Charlotte, Glades, and Lee counties. If you are interested in learning more about this Holland Roofing branch, visit our website.
 If you're still unsure if Holland services in your area, contact us! Holland has always believed in Quality, Tradition, Loyalty, and Dedication to our customers. If we don't service you, we will find a contractor we trust who will!