Holland Roofing proudly offers our clients access to a free technology solution, RoofScope. Any and all information captured in the field will be housed within RoofScope, utilizing real-time processing and mobile applications.
What is RoofScope Service Alliance?
The Service Alliance consists of three individual performance-based programs focused on responding, forecasting, and ensuring the safety of your building. These programs are part of an industry best practice and are proven to extend the life of a roof up to 20% when correctly implemented. These programs are typically executed 2-4 times a year based on your roof condition and manufacturer's requirements.
The services selected will be performed on a self-renewing schedule and do not require to be updated. Your office will be contacted prior to the visit to confirm availability and obtain access to the property.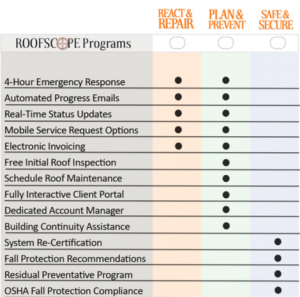 What are the problems we look for using RoofScope? 
Natural deterioration of the membrane and flashing
Blisters, bare spots, fish mouths, and pitch pans
Splits in roofing membrane or composite flashing
Buckles, wrinkles, or ridges
Temperature extremes (thermal shock)
Gravel stop joint breaks
Minor slippage of roof membrane or flashing
Failing caulking
Loose metal flashing
Debris, small branches, dirt, or rocks
Visually inspect for positive drainage
Examine all metal flashing and valleys for rust
Review maintenance records of all roof inspections and roof maintenance performed, if available
Review manufacturers' warranties and guarantees
Determine the most effective measure in repairing and maintaining the existing roof system
RoofScope Advantages
Labeled roof sections by square feet with photos of each section and estimated service life remaining.
Detailed roof composition and the estimated install date.
Easy to understand roof condition grading (A-F) with life expectancy/forecasting for each section.
All deficiencies labeled in a priority status for educated spending. (Emergency, Remedial, Safety, and Replacement)
Fully defined problem and correct descriptions.
Before and after photos for all repairs performed.
Executive summary page for each location that includes portfolio information and overall budgeting recommendations.
If you have any questions about RoofScope Service Alliance, contact us at (877) 491-6533.